The City of Rossland reminds residents that open burning of yard and garden waste is prohibited within the City. With Spring Clean-Up around the corner, residents are cleaning up their yards. The City of Rossland's Burning Bylaw does not allow for the burning of yard waste, garbage, construction or demolition material. In some situations, a "Special Burning Permit" can be issued. Please contact City Hall if you wish to apply.
The City's Burning Bylaw DOES NOT apply to campfires on private property. See the graphic below to learn more: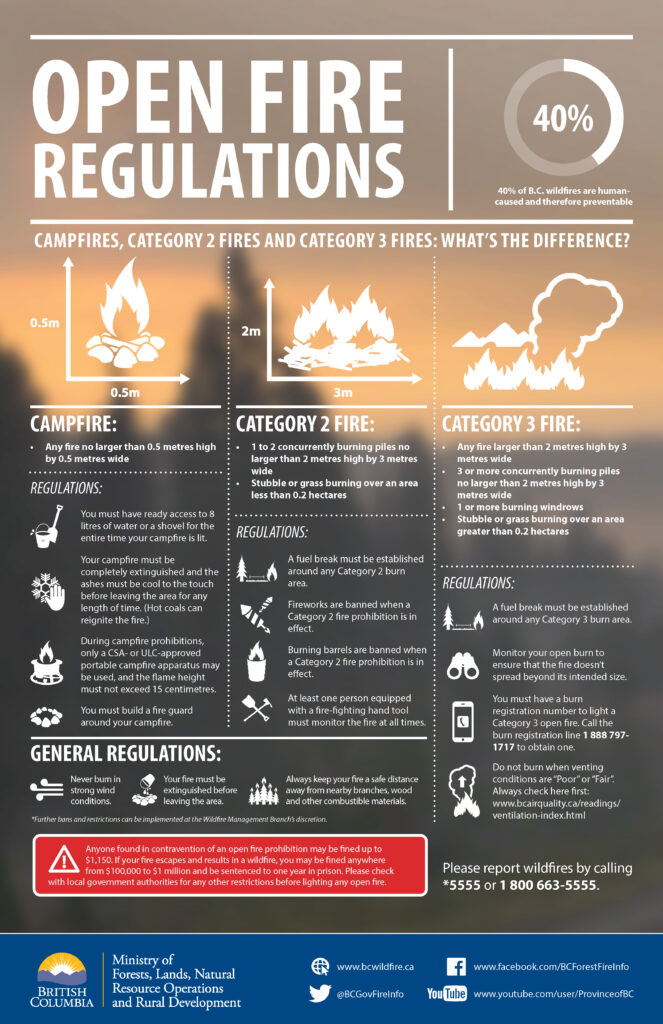 Burning Alternatives:
Every spring, the City provides a curbside Yard waste pick-up.  Stay tuned for when the program will begin this year.
What you need to know:
Tree Trimmings  
MUST be under 10cm in diameter and 3m in length and not to exceed a truck full per household. Please place trimmings on an unmaintained boulevard (no tarps). PLEASE DO NOT BUNDLE PILES.
Yard Waste   
ONLY leaves and grass clippings can be placed in a pile on your unmaintained boulevard. Dirt, sod, rocks, or constructions material, invasive species WILL NOT be accepted. PLEASE DO NOT BAG YARD WASTE OR PLACE A TARP BENEATH YOUR PILE. 
GRAVEL & SAND
Please rake gravel and sand onto asphalt surface. PLEASE DO NOT MAKE PILES.