Welcome to the South Kootenay Seniors Website!
'South Kootenay Seniors' is the regional age-friendly initiative between the City of Trail, Village of Warfield and City of Rossland. The three communities are working together to support local seniors and business and organizations that provide services for seniors. In this site you can find information on resources for seniors and upcoming events.
How to Contact Us:
Phone: 250-368-1896       Email: southkootenayseniors@rossland.ca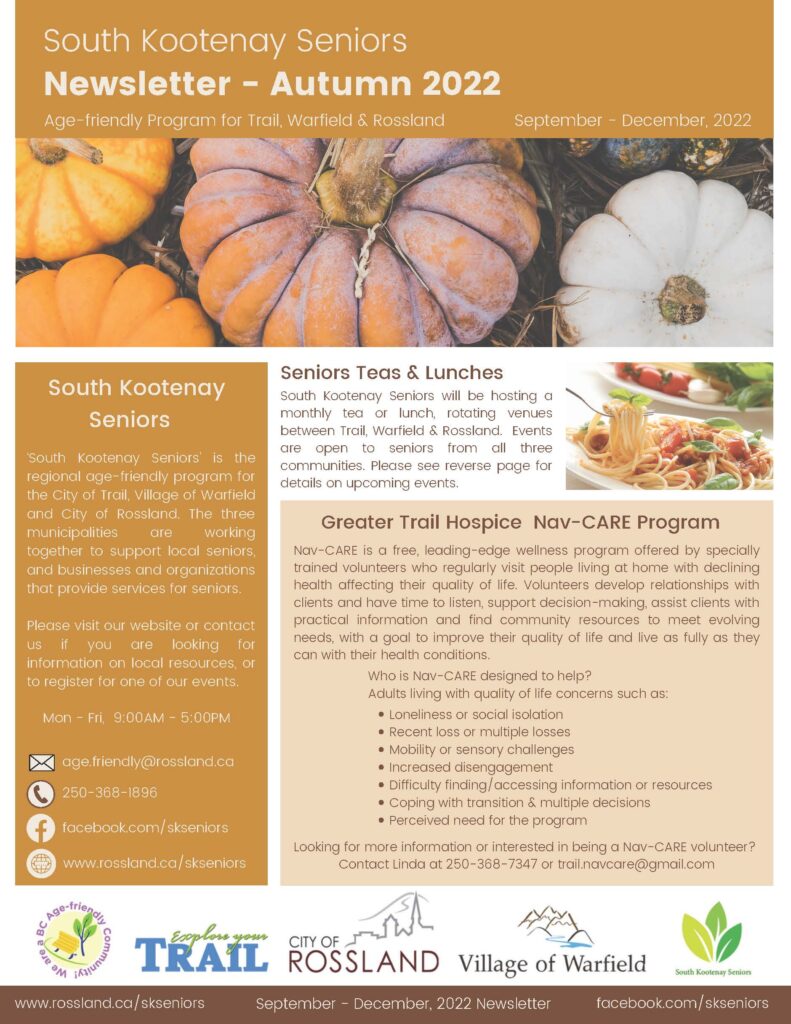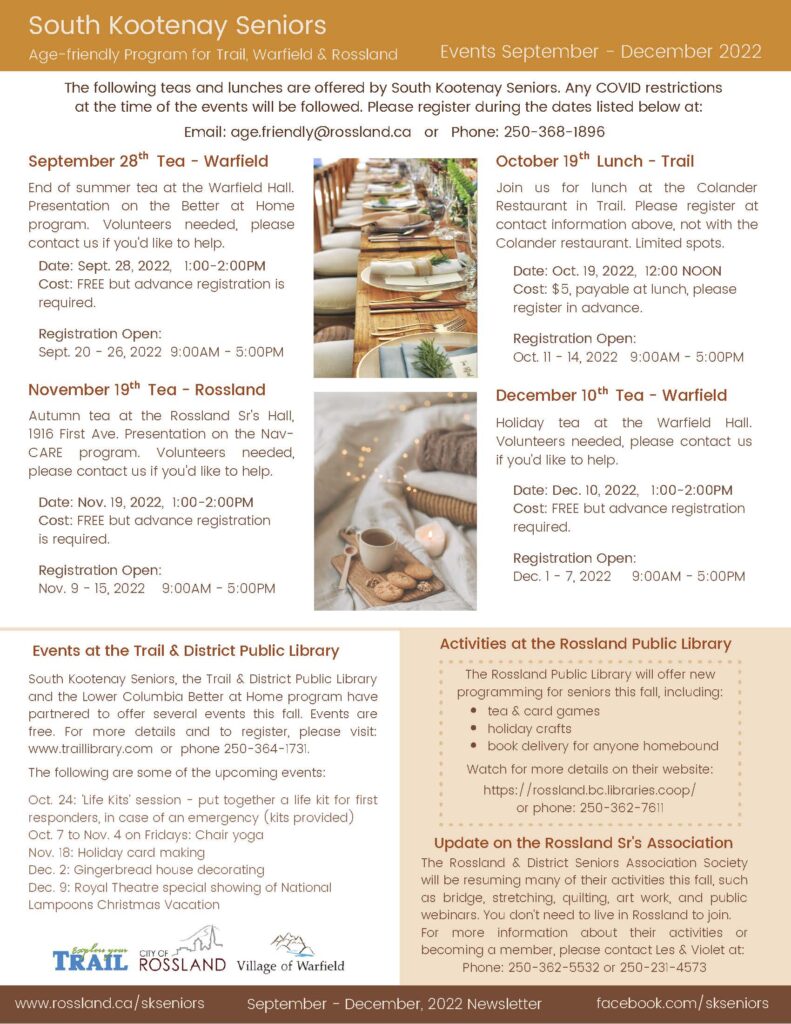 What is an Age-friendly Community?
According to the World Health Organization, "an age-friendly community is one that is an inclusive and accessible environment that allows people to realize their potential for physical, social, and mental well-being throughout the life course and to participate in society, while providing them with adequate protection, security and care when they need.
In an age-friendly community, the policies, services and structures related to the physical and social environment are designed to help seniors "age actively." In other words, the community is set up to help seniors live safely, enjoy good health and stay involved. The World Heath Organization looks at eight topics to determine the age friendliness of a community. These topics include:
Housing
Transportation
Social Participation
Respect & Social Inclusion
Civic Participation & Employment
Communication & Information
Community Support & Health Services
Outdoor Spaces & Buildings
All three municipalities that are part of South Kootenay Seniors took part in age-friendly planning over the past few years. To see more details, please visit each community's page:
Resources for Seniors
Greater Trail / Lower Columbia Region
Fetch
Greater Trail Area (Lower Columbia) Resources for Seniors Directory: This is a complete directory of local resources that is updated often (link).
Lower Columbia Better at Home
United Way's Better at Home program helps BC's older adults continue living independently in their own homes by providing simple, non-medical home support services. Better at Home is available to support seniors who are in need of grocery and prescription delivery, weekly hot meal delivery and friendly phone calls to check in and chat. Please call Stephanie at 250-364-2326 for more information or visit their Facebook Page.
Kootenay Columbia Home Medical Equipment
One option available locally for home medical equipment (link).
Canadian Red Cross HELP Locations
Through our Health Equipment Loan Program (HELP), a national program of the Canadian Red Cross, we're providing health equipment to individuals dealing with illness or injury (link).
---
Provincial & Other Resources
BC211
BC211 is a non-profit organization that specializes in providing information and referral regarding community, government and social services in BC. Their help line services include 211 (simply dial 2-1-1 from your phone), which can connect seniors to many resources including the 'Safe Seniors, Strong Communities' program that helps seniors 65 and older looking for volunteer help during COVID-19 with grocery shopping, meal preparation, and prescription pick-up, or they can receive a friendly check-in call (link).
The Gluu Society
The Gluu Society organization provides free technology training for seniors in Canada: www.gluusociety.org
Ability411
Ability411 answers questions and provides practical information about technologies, tools and equipment that increase the independence and well-being for BC seniors, and support to their families and teams (link).
HealthLink BC 8-1-1
8-1-1 is a free-of-charge provincial health information and advice phone line available in British Columbia. The 8-1-1 phone line is operated by HealthLink BC, which is part of the Ministry of Health. By calling 8-1-1, you can speak to a health service navigator, who can help you find health information and services; or connect you directly with a registered nurse, a registered dietitian, a qualified exercise professional, or a pharmacist. Simply dial 8-1-1 from your phone or for the hard of hearing through a Teletypewriter (TTY) relay service by dialing 7-1-1 or for Video Relay Services (VRS) give VRS the number 604-215-5101 to call us (link).
Seniors BC
Information for living a healthy and active life, as well as information for seniors' families and caregivers (link).
Seniors First BC
A non-profit community-based organization that works to prevent elder abuse across the entire province as well as provides information, assistance and support on issues that impact the health and well being of an older adult (link).
Exercises at Home
Videos created by certified fitness instructors geared for seniors for staying active at home (link).
Active Aging Canada
Active Aging Canada strives to promote a society where all adult and older adult Canadians are leading active lifestyles that contribute to their overall well-being. An excellent resource for ways to keep active and healthy (link).
Advance Care Planning
Express your wishes and instructions for future health care treatment and have a voice in your future decisions. Every capable adult should think about making an advance care plan. Get access to the FREE provincial advance care planning guide (link).