Garbage & Recycling
Please read below before you call the City regarding delays or missed pick ups for your garbage or recycling. GFL are the contractors for collecting garbage, green bin organics and recycling if you have an issue please contact their Trail office at (250) 367-0099 or email CSRTrail@GFLenv.com or alternatively you can contact the RDKB by calling 250-368-9148 or email knowwaste@rdkb.com. For more information on Recycling BC please contact RecycleBC.ca Thank you!
Weekly Green Bin and Garbage Collection Schedule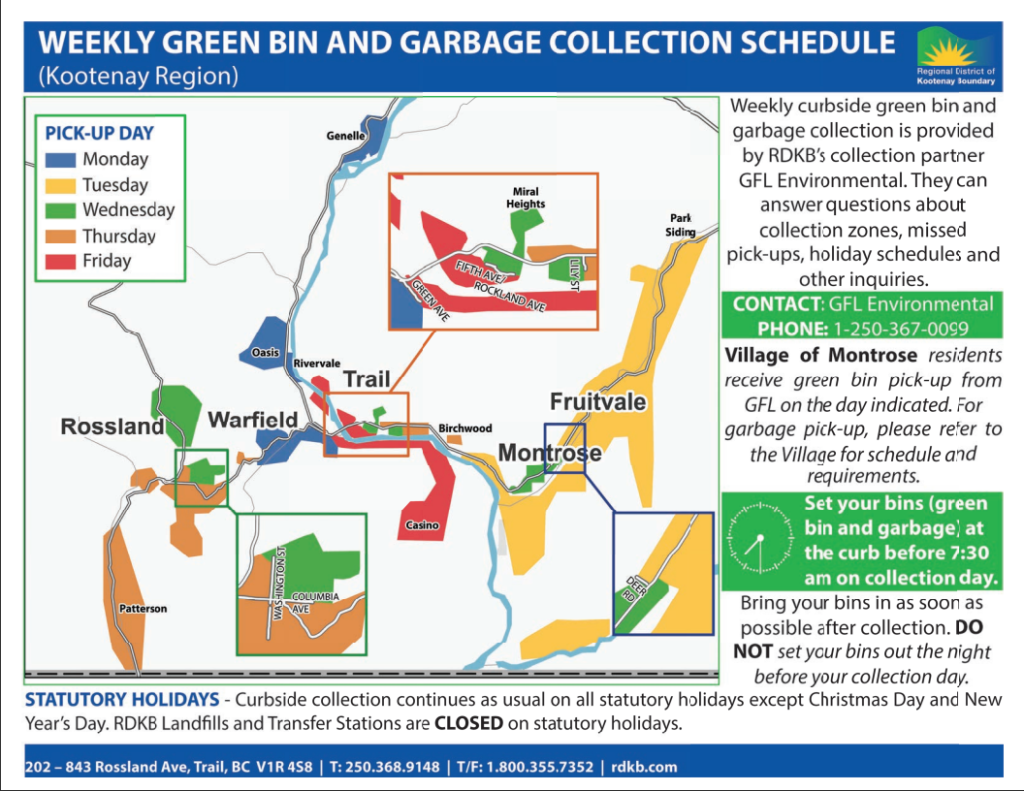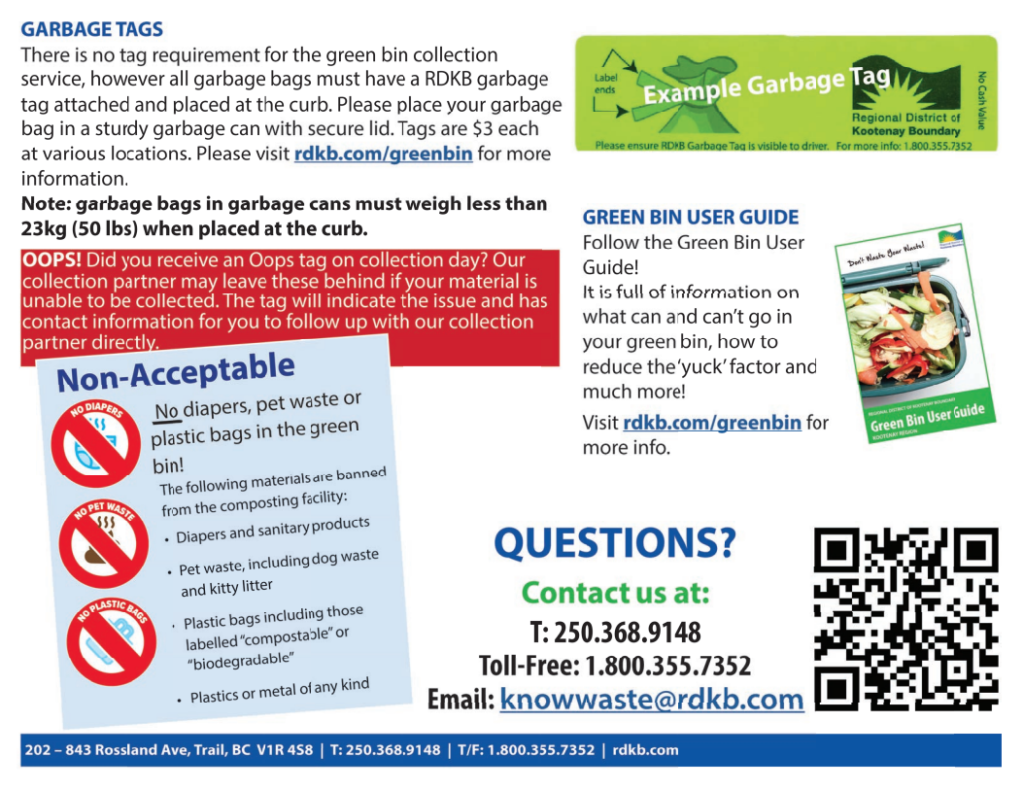 Information on Garbage and Composting in Rossland
Going Greener
Rossland is partnering up with the Regional District of Kootenay Boundary, Trail, Warfield, Montrose and Fruitvale to make improvements to our garbage and food waste collection. As part of a commitment to Zero Waste Goals and efforts to mitigate greenhouse gas emissions, a new waste reduction program will be launched targeting the diversion of food waste and kitchen scraps in the McKelvey Creek Wasteshed. This program will be managed by the Regional District.  The RDKB has awarded the contract to GFL Environmental Inc. who will provide the residential curbside collection of both garbage and green bin food waste for Rossland.
Starting October, 2023
Residential curbside collection in the McKelvey Creek Wasteshed will be as follows:
For the communities of Trail, Rossland, Warfield, Fruitvale and Electoral Areas A and B, weekly collection of garbage and the green bin (food waste) will occur. Residents must use RDKB garbage tags only for the user-pay garbage component. 
Click here for the collection schedule and you can also use this app: Curbside Pick Up Schedule Address Search
User Pay System Change
The City of Rossland already has a user-pay, bag-tag system in place for our residential solid waste curbside pick-up program.
Sale of all GFL stickers will be stopped as of October 2, 2023, however, p

urchased current GFL stickers will be able to be utilized until December 31, 2023

Starting October, 2023 the RDKB  is initiating the green bin/garbage collection program so the following changes will apply:

One large GFL sticker will be the equivalent to one RDKB tag.

Two small GFL stickers will be the equivalent to one RDKB tag.

If using GFL stickers – A partially filled bag will require the use of two small or 1 large GFL sticker.

The single use of one small bag sticker will no longer be accepted.

As of

January 1, 2024 the RDKB tags will be the ONLY garbage tags allowed for the service.
To view complete documents with FAQs and other important information click here -> https://rossland.civicweb.net/document/305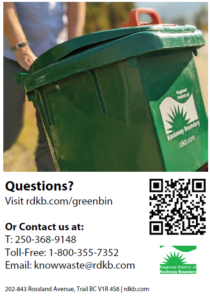 ---
Garbage Pickup Services
The City's Residential Waste Services are provided by GFL Environmental Inc. Any changes in service due to holidays or severe weather conditions will be posted on the GFL website.
You can also go: RDKB – Regional District of Kootenay Boundary > Utilities & Waste > Garbage, Organics and Recycling > Curbside Collection
If you have questions or concerns regarding your service, please contact their Trail office at (250)367-0099 or email CSRTrail@GFLenv.com
---
Compliance
A person must place refuse to be picked up for collection on the refuse collection day in either metal or plastic bins with a secure lid. A person must not place refuse to be picked up for collection on the refuse collection day before 5:00 a.m. the morning of the day of collection.  View the Wildlife Attractant Control Bylaw
---
Stickers
Garbage tags are sold in sheets of 10, and can be purchased at Ferraro Foods, Alpine Drug Mart or City Hall 
The stickers cover the landfill fees, garbage pickup and delivery to the Trail landfill and the food waste (green bin) that goes to The Central Composting Facility located in Salmo.
There must be an appropriate sticker VISIBLE on each bag or GFL will not pick up your garbage.  Should your bag be over the size/weight restriction GFL will not collect your garbage, please ensure your garbage is within the range specified below. 
1 bag or a can not exceeding 120L in volume and 50lbs in weight
If you have missed your garbage day, local drop-off services are located at the McKelvey Creek Regional Landfill.
To view all documentation related to Garbage and Recycling click here -> City of Rossland – Document Center (civicweb.net)
Recycling
For more information on Recycling in BC, please visit Recycle
Download the App for up-to-date information: Download the App – Recycle BC