Coat of Arms & Rossland Flag
Granted by Robert Douglas Watt, Chief Herald of Canada on 29 February 1996 and entered in Volume III, Page 145 of the Public Register of Arms Flags and Badges of Canada.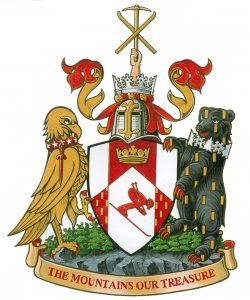 The colour red recalls Red Mountain, one of the city's most dramatic features. The narrow gold rectangles on either side refer to the tremendous gold mines of the region, notably Le Roi, which is also represented by the alternating maple leaf and disc crown for Canada and wealth. The broad band of white on the mountain alludes to the ski runs and alpine recreation. The female skier evokes the triumphs of Nancy Greene and Karen Lee Gartner, who trained and skied on the Rossland slopes.
The snowflake crown is illustrative of the majesty of the local peaks of the Monashees and of winter sports. The arm signifies the determined spirit of the community. The miner's pick refers to the discovery of gold, and the skis symbolize the new economic directions and the historic achievements on the local slopes.
This phrase celebrates the natural and mining heritage of the city and winter and summer recreation.
The bald eagle, wearing a collar of stars from which hangs a red sword, is a visual pun of the city's mines, "War Eagle" and "Centre Star". The black bear, with gold rectangles, which is also a visual pun of other mining sites, emphasizes the gold found during the period before the Second World War. The collar of snowflakes and maple leaves recalls the city's location and the wealth gained from the winter recreation industry.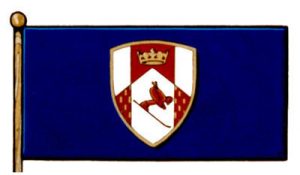 For more information regarding the Public Register of Arms, Flags and Badges of Canada visit the Governor General of Canada website.