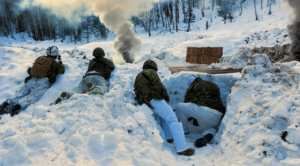 From Friday 3 March to Sunday 5 March approximately forty soldiers, primarily from 44 Engineer Squadron, will be conducting a training exercise at the Stoney Creek Demolition Range and Training Area, approximately 2km north of Warfield.
Soldiers will be practicing winter operations and demolitions skills. The exercise will involve the use of light vehicles and heavy trucks. On Friday night and through the day on Saturday the soldiers will be firing blank rounds and may use pyrotechnics including flares and smoke. This exercise will involve the use of explosives and people in the area can expect to hear several loud explosions from mid-day through to the early evening on Saturday.
Area residents will likely see military vehicles traveling between the Trail Armoury and the training area throughout this period. Members of the public are advised to stay out of the range areas and comply with all signs, barriers, and gates. Unauthorized entry into the Stoney Creek Range and Training Area at any time constitutes trespassing and presents a number of risks associated with military training areas, including those relating to unexploded ordnance and the active use of explosives.
44 Engineer Squadron is a Canadian Army Reserve unit that has armouries in Trail and Cranbrook. Soldiers of the 44th serve part-time from Sept to May on Thursday evenings and one weekend per month. Members of the 44th also complete specialized training in summer. To learn about joining the squadron text or call a recruiter at (236) 888-9117.