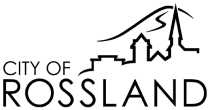 EMPLOYMENT OPPORTUNITY – REGULAR FULL TIME TRADESPERSON I – Permanent Position 
INTERNAL/EXTERNAL POSTING  
The City of Rossland has an opening for a regular full-time Tradesperson I position in the Public Works Department. This is a union position subject to the terms and conditions of the current Collective Agreement between the City and CUPE Local 2087. 
This opportunity is for an individual who is hard-working, has a positive attitude, and can adapt to a fast-paced and changing environment.   Successful applicants will have a Grade 12 Diploma or equivalent and possess a valid Class 3 driver's license with air brakes.  Applicants must be in good health and capable of physically demanding work. 
Qualifications to set you apart from other applicants will be snow plowing experience, road maintenance, pipe laying and knowledge in municipal infrastructure. Assets for this job would be use of construction tools, mechanical background, equipment operation and general municipal infrastructure repairs and maintenance.   
Over time duty, on call, call out duty and shift work will be required. 
This is a CUPE Local 2087 bargaining position and offers a starting Tradesperson I rate of $32.82 (Pay Grade 3) per hour with a one-year probation period.